Beheren vestigingen
Binnen de online verlofregistratie kan een bedrijf worden verdeeld in afdelingen. Zo kun je overzichten en filters maken per afdeling. Wanneer wordt ingesteld bij een medewerker dat de afdelingsmanager het verlof goedkeurt, wordt de beoordeling van het verlof naar de afdelingsmanager verstuurd.

Nieuwe vestiging toevoegen
Druk op de knop >> Nieuw om een nieuwe vestiging toe te voegen
Geef een naam op voor de vestiging
Kies de manager van de vestiging. Let erop dat hier alleen de medewerkers worden getoond van het type manager of beheerder
Bewerken en verwijderen afdeling
Als een vestiging is aangemaakt kun je hem bewerken door op het potloodje te klikken.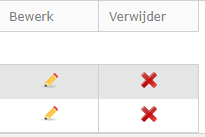 Wanneer je een vestiging wilt verwijderen, druk je op het rode kruisje achter de vestiging. De verlofregistratie software controleert dan wel of er geen medewerkers zijn gekoppeld aan deze vestiging.